Naturediet Treats – Chicken
On week one of introducing you to our Naturediet Dogs we presented Madge the gorgeous Irish Terrier on our Standard Chicken 390g packs.
You will also notice she is on our Chicken treats packaging too!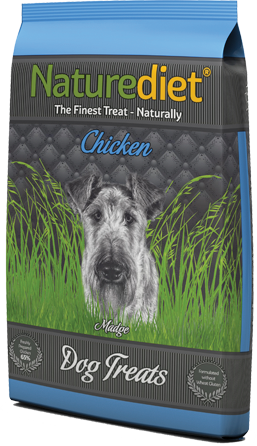 Using only the highest quality natural ingredients, Naturediet Chicken is a complimentary semi-moist treat which is highly palatable.
We use only freshly prepared chicken and only chicken reducing the risk of allergy.
Naturediet Chicken is formulated without wheat gluten. Our vegetables are carrots.
Suitable for all types of adult and senior dogs.
Consideration should be given to any treats added to the daily feed which may result in additional calories above the recommended level.
Never leave your dog unattended with treats, chews or toys.
Why not give them a try?