Our Naturediet Dogs – Week 1
Now we have our complete range on the market, we are being asked by lots of you out there, "what dogs are on your packaging"? So we have decided to do a weekly announcement of who all the lovely dogs are on our packaging.
Let's Start with our best Seller – Naturediet Chicken Standard Range 390g packs with Madge.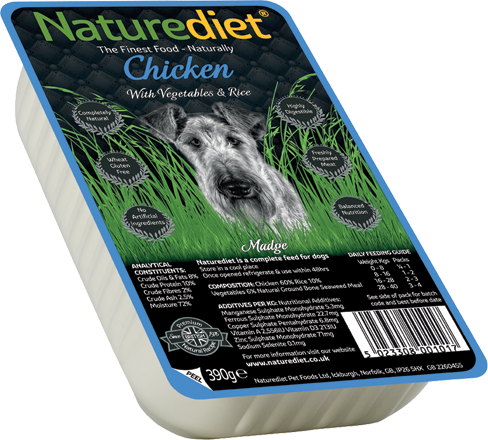 Madge is an Irish Terrier, who will be 3 years old in December as she is a Boxing Day baby. She lives in Lincolnshire and is owned by Mrs Susan Seabridge, from whom the CEO of the Company purchased her first Irish Terrier, Flynn and the second Megan and the third Molly. The girls coming through Irish Terrier Rescue. Megan was and still is the youngest to be rescued and rehomed by Irish Terrier Rescue and is now 12 years old.
Susan shows her dogs at Crufts, is a breed judge for both Irish Terrier and Airedale and travels around the country with her dogs in her motorhome visiting shows with her husband.