Dogs in the workplace: yes, or no?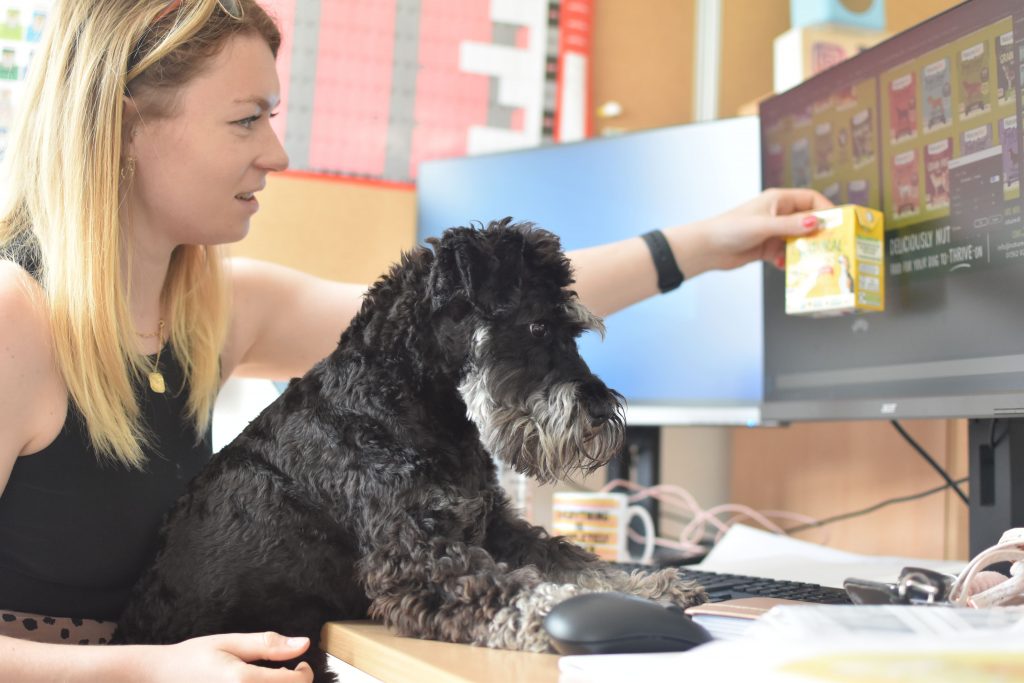 Wednesday 3rd November is National Stress Awareness Day and we are putting a four-legged spin on the occasion.
A pending mental health pandemic and the gloomy realisation that stress levels are on the rise are reasons why we should be raising awareness today. In fact, the largest survey on stress levels in the UK found 74% of people felt overwhelmed by stress last year, to the point where it was affecting their day-to-day life. (1) It is no secret that in many cases this stress is associated with our careers and working environment… and that's where dogs come in!
We are excited to tell you that our four-legged friends might be part of the solution to reducing stress in the workplace. It is well-known that owning a dog can improve your mental health, but did you know that there is a scientific explanation for this? Interacting with your dog, especially cuddling, increases the release of oxytocin, known as the 'love hormone' which incites feelings of happiness and encourages the formation of a special bond between dog and owner. So, it's no wonder our four-legged friends can have such a positive impact on our mental health.
Here at Naturediet, we welcome dogs into the workplace with open arms because we know there can be so many benefits, such as:
Boosting morale
Reducing stress levels
Improving employee relationships
Promoting a healthier, happier lifestyle
We think our CEO, Tim Hansell put it best:
"Facilitating a dog friendly working environment has a multitude of benefits for our colleagues and productivity. Research has shown that dogs in the workplace helps reduce stress and promote interactions and communications. Our dogs have been a welcome comfort for colleagues re-entering the workplace after lengthy periods of home working."
Putting theory to the test, our Creative Marketing Executive, Aimee, is regularly accompanied by her 1-year-old miniature Schnauzer Ruby. Creating somewhat of a mutualistic relationship in the office, Ruby not only lifts people's spirits and promotes a sense of ease, but being in the workplace is also great for Ruby's socialisation and well-being.
The idea of having your furry friend with you all-day is magnificent and the benefits are plenty, but the thought of it not always going to plan can be a bit daunting. From accidents to distractions, dogs can be disruptive, so we're sharing some top tips to help you integrate your dog into the workplace:
With the help of your colleagues, come up with a timetable for bringing your dogs into work.
Some of our four-legged friends can be shy and might not feel comfortable around more confident dogs, so a timetable could be the best way to avoid over-excited interactions.
Make an effort to know the dogs in the office – what they like and dislike for example – to make sure you don't upset them or their owner.
Take responsibility and be in control of your dog – don't let them run riot in the office! Not only will this be distracting for everyone, but it's likely to have the opposite effect on your stress levels. So, we advise keeping a lead handy for those excitable moments.
Make sure your schedule caters for them! If you've got lots of meetings and won't have time to walk your dog, it might be kinder to leave them at home for the day.
Check with the owner before feeding an office dog – they might have intolerances or allergies, so it's always safer to ask!
Bring in your dog's bed and favourite toys, so they have something to keep them occupied when you're busy working. Don't forget poo bags and cleaning products either… because accidents do happen!
Ensure your dog has access to a drinking bowl and gets designated walking breaks throughout the day. Don't forget, our furry friends have needs too!
Creating a 'pawsitive' working environment is essential to us at Naturediet because we value the well-being of our employees and their dogs. We are using the special bond between owner and dog to our advantage to help combat stress in the workplace … "because sometimes the best therapist has fur and four legs".