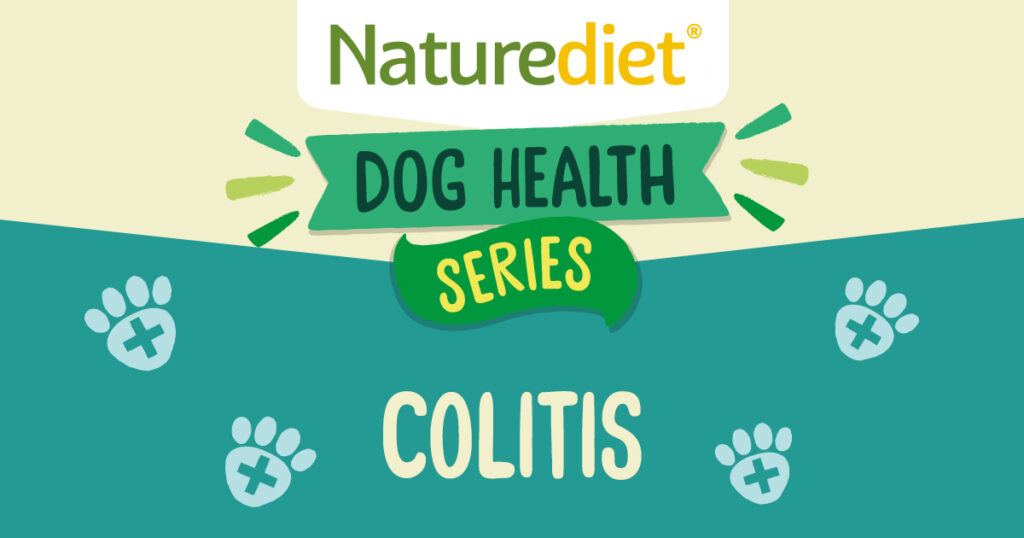 This blog post is part of our health series for dogs. If you suspect that your dog is suffering from colitis, or any other medical condition, you should refer him or her to your vet for the best information and treatment.
What is Colitis?
Colitis, or inflammation of the colon, is quite a common condition in dogs. The colon helps to maintain the water and electrolyte balance of the body and stores faeces. It also contains bacteria which help to ferment fibre.  
Signs and symptoms
When inflamed, the colon's ability to absorb water is reduced, and its motility altered. Diarrhoea is a common symptom and dogs suffering with colitis generally pass small quantities of faeces very frequently. The stools may vary from soft and watery to semi-solid and can contain varying amounts of mucous, blood or both. Dogs commonly squat and strain before eventually passing a small amount of faeces. Vomiting and a painful abdomen can also be symptoms of colitis.  
Causes
There are a number of different causes of colitis but in many cases the cause remains unknown. Stress, eating something that irritates the gut, parasites, infections, and food allergies or intolerances are some of the know causes of the condition.   
Treatment
Once diagnosed, your vet will be able to advise on the best course of treatment.  Depending on cause and the severity of the condition, treatments can range from a bland diet to antibiotics. If your dog suffers from regular flair-ups (chronic colitis), then you will need to work closely with your vet on a number preventative measures.
Diet
Diet plays an important role in the management of colitis.  Dogs with chronic colitis may benefit from a diet which has a high fibre content and is easy to digest.  Insoluble fibre slows down the speed of digested food passing through the colon allowing more time for the water and electrolytes to be absorbed, resulting in a better faecal consistency. 
Naturediet's Feel Good Senior Lite is a nutritionally balanced wet dog food and contains a good source of natural fibre.  Available in both 390g and 200g, Senior Lite is suitable for all breeds of dog. Senior Lite must not, however, be fed to puppies or junior dogs as they require a higher calorie intake and therefore this variety is not suitable for these dogs.
If the colitis is thought to be caused by food allergies or intolerances, then your dog may benefit from Naturediet's Purely range. Available in three delicious varieties, Purely is a 92% just meat range specifically formulated for dogs with food intolerances. The Feel Good range, including Feel Good Fish, Feel Good Salmon and Feel Good Grain Free Salmon may also be a suitable alternative for dogs with meat based protein intolorences such as beef, chicken or pork. All Naturediet recipes are designed using simple, limited ingredients and have no artificial additives, colourings or flavourings. They are all 100% natural dog food meals that are complete and balanced and all are wheat gluten free recipes.
It is important that advice be taken from your veterinary surgeon as to whether the food would be suitable for your dog.