How can my dog benefit from the Purely range?
Written by Zoe Russell,
Nutrition officer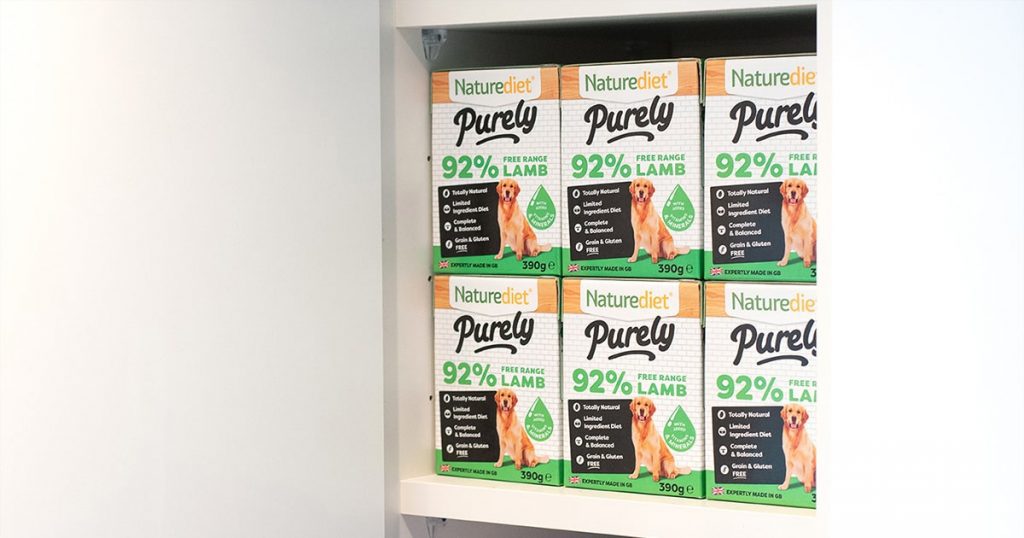 At Naturediet, we have a range of foods to suit dogs of all shapes and sizes. Within our selection of diets is the Purely range– one that our nutritionists love and trust. We know you love it just as much as we do, but just in case you're not familiar with it, we've put together 9 simple reasons to explain why it's Purely brilliant!
1. Limited ingredient recipes
These diets are carefully crafted with Naturediet's less-is-more ethos, which makes them ideal for dogs with dietary sensitivities, or those who may perhaps benefit from an elimination diet. The recipes are simple; 92% meat, topped up with vitamins and minerals, with a splash of water. That's it. Simple.
2. Single-source protein
All of our Purely recipes use single-source animal protein, which means that the meat you see on our label is the only meat in our formulation. Sensitive dogs can particularly benefit from single-sourced protein food as intolerances and allergies are often caused by a reaction of the body against a particular protein. So, if you know your dog can't tolerate a certain type of protein, then you can choose an alternative, one that best suits your four-legged friend.
3. Nutritionally complete and balanced
Although Purely is made using limited ingredients, they are high in nutritional quality. Our food is also nutritionally complete and balanced which means they provide all the required nutrients in the right quantities. They therefore provide all the nutrients your dog needs without supplementation.
4. A flavour to suit every taste!
We know not all dogs can tolerate every ingredient. In fact, we often hear of pet owners struggling to find a diet on the market that's made without popular ingredients such as beef. To help support these owners, we have made three different recipes within our Purely range; lamb, salmon and chicken, to help make our range inclusive to as many as possible.
Purely Salmon & Whitefish
£31.05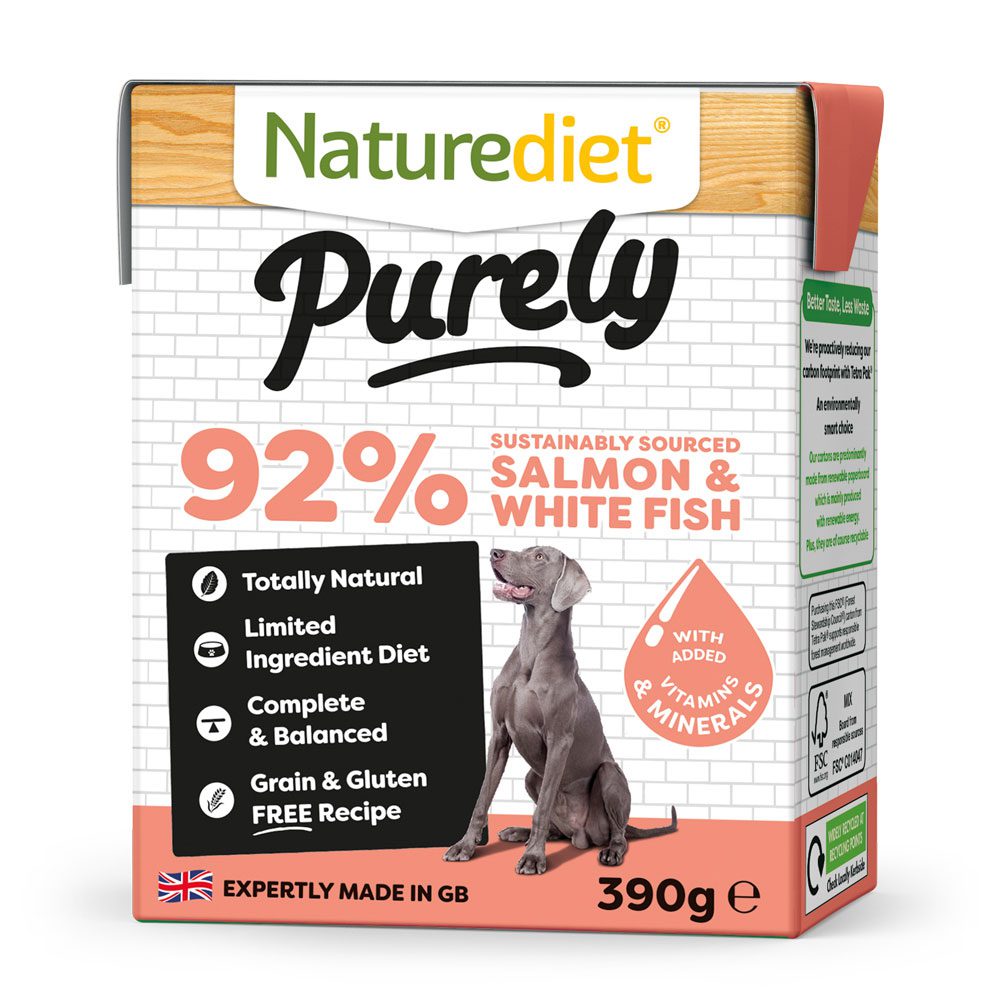 5. A great alternative to raw
Lots of owners say they like the idea of raw but can't bear the thought of raw meat strewn across the kitchen and taking up space in their freezer. Fear not, our Purely recipes can be a close alternative to raw as they contain 92% meat, and are nutritionally complete and balanced. Furthermore, because they are gently steam cooked, you don't have to handle any raw meat when preparing your dog's dinner. Conveniently, these foods can also be kept in an ambient, cool, dry place before opening, which means no freezers needed!
6. Travel-friendly
If you're planning on going away with your four-legged friend, then these can make the ideal holiday food. If you are usually a raw feeder but don't have the space or facilities to store their food, then Purely may be the answer. All you need is a cool, dry place to store it, out of reach from hungry mouths! Once opened the food should be refrigerated and used within 48 hours; our cartons are compact and easy to store, so if you don't finish them in one go, they can fit snugly inside a fridge door – easy!
7. Gently steam cooked
As mentioned earlier, are food is gently steam cooked, which helps to retain all the nutritious goodness. By steam cooking, the foods also retain moisture which provides the lovely soft, pâté-like texture our dogs love and enjoy.
8. Complements our dry food perfectly
Being nutritionally complete and balanced, our wet food can be fed alone, or in combination with one of our dry diets. When feeding a combined wet and dry diet, dogs can benefit from both types of food. For example, if they enjoy the delicious taste of our Purely wet diets, but enjoys the crunch of kibbles too, then feeding a combined diet might 'hit the spot'. Also, due to them being nutritionally complete, you can feed the ratio that suits your dog. For example, split the feeding guidelines 50:50, or 75:25 and so on. If you need help working out the amounts, then our nutrition team would be happy to assist.
9. Made locally, by local people, with local ingredients
Our Purely range is made in our on-site factory in Norfolk, meaning we know exactly what goes into our food. We are a family run business who have been making pet food for around 40 years and we channel this knowledge and experience into every carton we make. We use British sourced ingredients where possible to keep our food miles low and our carbon pawprint as small as possible.