Naturediet Puppy Feeding Guide

Written by: Zoe Russell, BSc (Hons)- Nutrition Officer
How much should I feed my puppy?
As every dog is different, how much you feed will depend on your individual dog and factors such as their current weight and their age. If you are unsure how much your dog weighs at present, then please speak to your vet next time you are in for an appointment or try popping your dog on a set of bathroom scales.
General feeding guide for puppies
If feeding a Naturediet dry puppy food, these are the recommended feeding amounts- please note, however, these are just guidelines and may require slight adjustment to suit their individual needs.
Weight of puppy
(kg)
Weaning to 12 weeks
(g/day)
3 – 6 months
(g/day)
6-9 months
(g/day)
9-12 months
(g/day)
0.5
35
35
25
20
1
65
55
45
35
2
130
95
75
60
3
195
125
105
85
4
265
155
130
105
5
330
185
155
125
7.5
395
250
210
165
10
460
310
260
205
12.5
525
365
305
245
15
590
420
350
280
20
520
435
350
25
615
515
410
30
710
590
470
35
–
665
530
40
–
730
585
45+
–
800+
640+
How many meals per day should I feed my puppy?
Ideally puppies should be fed little and often by providing small portions from their daily food ration at regular intervals throughout the day. When you first bring your pup home, start by feeding the number of meals your breeder has suggested. After this, general guidelines from the Pet Food Manufacturer's Association (PFMA) advise feeding four meals per day up until they are four months old, then three meals a day until they are six months old, then two meals a day after this, although this might vary based on your individual puppy's requirements. Always monitor their growth and overall body condition to get an idea of how their food intake is supporting their growth and activity. Remember that very young puppies grow fast and that growth rates slow down as they reach maturity and adulthood.
Is there a difference between the guide on the back of the bag and the online guide?
On the back of a bag or carton, it can be difficult to squeeze in a full feeding guideline that would suit every single dog and suit all their individual needs. Therefore the back of the bag provides more general guidance, while the online guide can provide a more tailored recommendation, based on the unique information you have entered about your puppy or young dog.
What puppy diet should I choose?
If you're considering a dry diet, then our Feel Good Puppy, may be the right choice for your dog. Our sensitive recipe has been developed without ingredients like wheat and is nutritionally complete and balanced, so provides all the nutrients your puppy needs. It can be fed until approximately 12 months of age when a dog may be ready for an adult diet.
However, if your puppy prefers a wet diet, then we have a few diets that may be right for them, including our very popular – or should we say 'pupular'- Feel Good Puppy. This diet is also nutritionally balanced and complete and can be suited to puppies from weaning until approximately 12 months of age. Made with chicken, rice and carrots, this delicious diet makes a tasty meal for most puppies!
On the other hand, if your puppy has a sensitive tummy, then they may prefer our Feel Good Grain Free Puppy wet food. This diet is made to a grain-free recipe and instead uses nutritious ingredients such as potato, alongside vegetables such as carrot and parsnip to create a delicious and nutritionally complete food.
Feel Good Grain Free Puppy
£28.22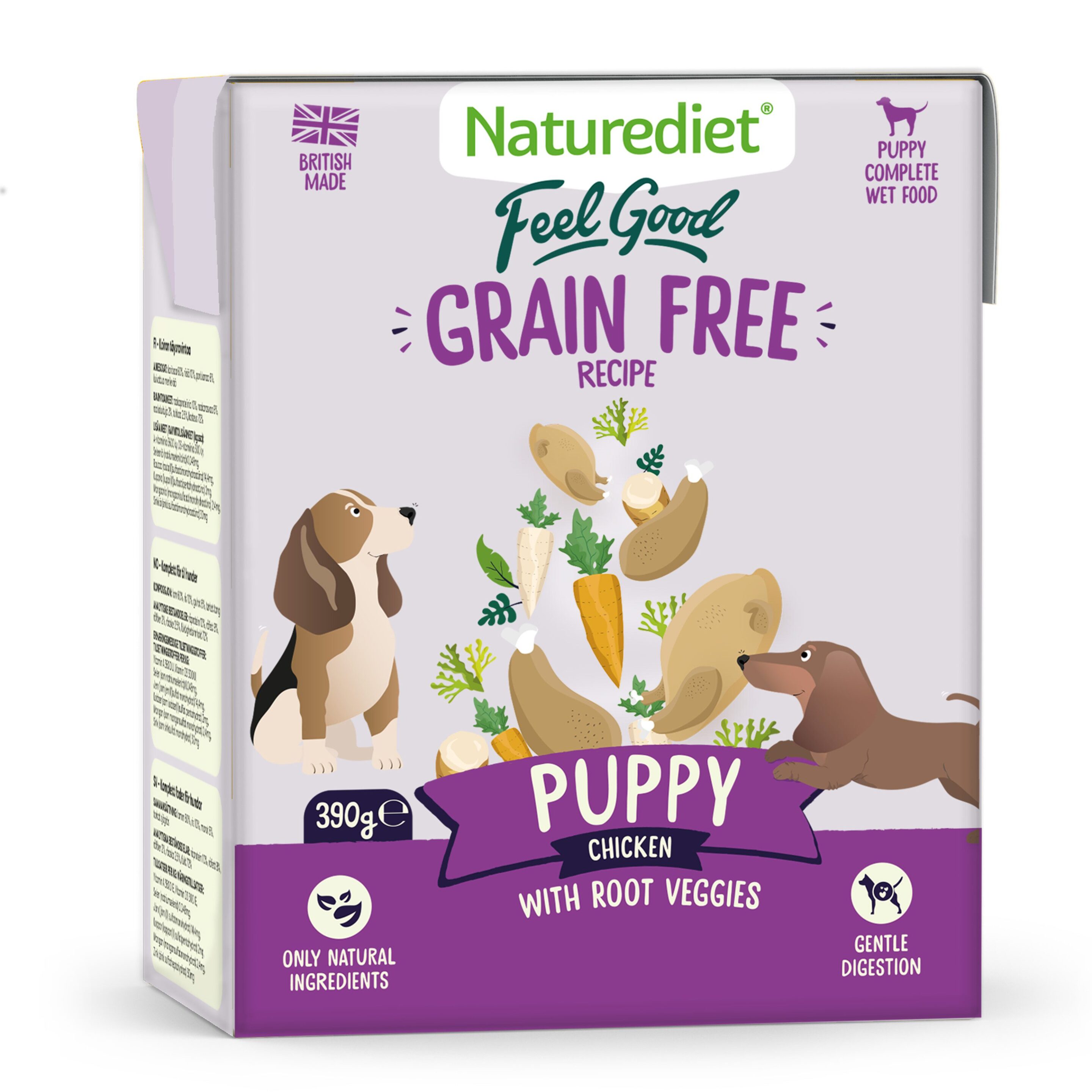 For more information…
The PFMA have produced a helpful 'Puppy Nutrition' fact sheet which provides information about feeding a puppy, or for more specific advice regarding our Naturediet products, then please contact our nutrition team at nutrition@naturediet.co.uk and a member of our team would be happy to help.