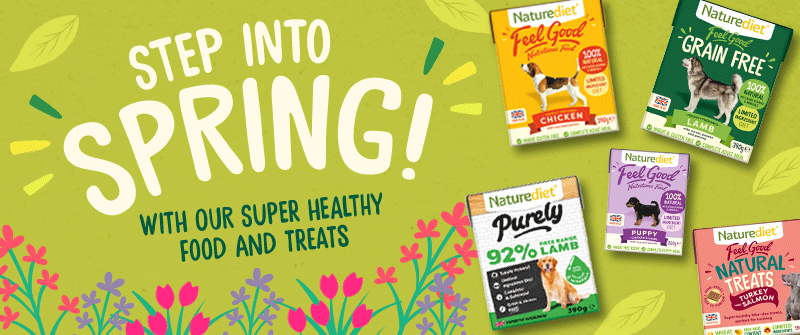 It's time to 'Step into Spring'
Long walks, warmer days, the smell of cut grass and the scent of fresh flowers. A new season however brings with it fresh concerns for our furry friends. Make sure you are prepared for Spring.
Easter
Easter is a lovely time of the year for family. Seasonal goodies such as chocolate eggs and hot cross buns (with raisins) are poisonous for dogs, so always best to keep out of the reach of paws. Instead, you could think about getting them their own super healthy treats.
In the garden
Longer, warmer days also mean that you may be spending more time outside. If you are thinking about what plants to fill your garden with this year, ensure that they are 'dog safe'. Some dogs do enjoy a good dig, so it's always best to avoid bulbs such as daffodils, tulips and hyacinths, to name but a few. Some flowers can also be dangerous too – Daffodil flower heads can cause vomiting, diarrhea and lethargy. Some parts of bluebells can be poisonous as is Ivy, which will have similar effects.
Ticks and fleas
These nasties are more prevalent in Spring. Make sure you check your dog for ticks – specifically around their head, neck, ears, chest and forelegs after being outside. A thorough health check as part of your regular routine is never a bad thing.
Spring clean!
Spring means spring cleaning. Make sure you keep products out of the way of children and dogs.
Hay-fever
Achoo! High pollen counts means hay-fever for humans and allergies for dogs (you can read about pollen allergies in dogs here). Ensure that your anti-histamine medication is safety out of harms way as these can be poisonous if digested to dogs.
Snake bites
There is only one venomous snake that is native in the UK – the European adder. You can usually spy them sunbathing around sandy heaths, long grass and woodland. They tend to only bite if provoked, but it is always good to ensure that dogs are in view.
Slowly slowly
We all love a long walk, but be considerate if you haven't hiked up a mountain since last summer. Build up you and your dogs strength and stamina so neither of you have any stresses or stains.